MEGABAU
MEGABAU is a software solution based on Microsoft Dynamics NAV / 365 Business Central,
which was developed specifically for the construction and ancillary construction trades.
It combines construction management and business management in a single solution.
Full integration with
Microsoft Dynamics NAV / 365 Business Central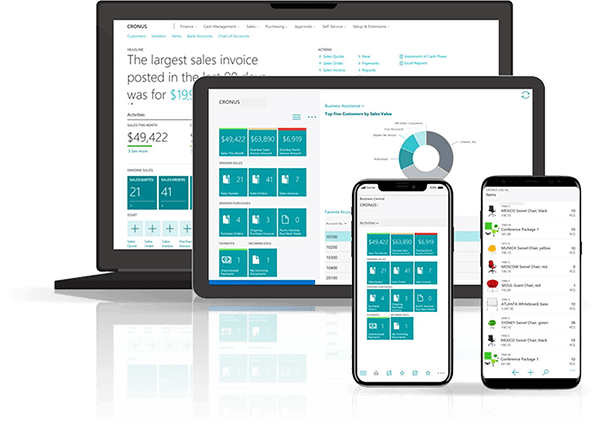 Non-construction-specific functional areas such as purchasing, merchandise management, production, service, CRM, financial accounting and cost accounting are made available in Microsoft Dynamics 365 Standard and are seamlessly linked to the construction-specific functionalities of the MEGBAU modules.
In this way, the technological advantages of the MS Dynamics 365 solution are made available for all subsectors of the construction industry.
Millions of users
State-of-the-art technology
Future-proof and scalable
Role-based Cockpits - 30 different Roles
such as project manager, mega construction manager, accounting, site manager and many more
Mobile working
Access from any device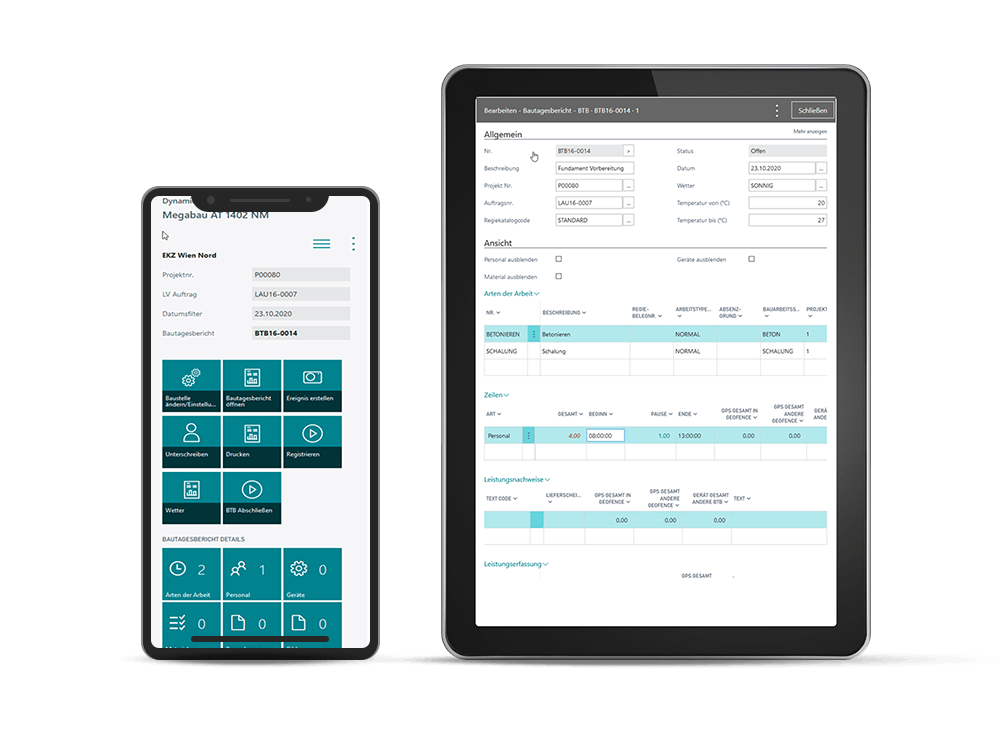 Construction documentation always and everywhere
Mobile documentation of events in the construction process
Recording of additional management services in the daily construction report
Recording of additional LV items in the daily construction report
Archiving via DMS
Clear work on the tablet
Voice input
Photo & scan function
Electronic signature
Quick control over the project
Deadlines and tasks at a glance
Data acquisition in real time

Graphical resource planning
Integrated project management and construction time planning
Graphical resource planning with optional HR integration
Device Management
GPS tracking and geo-fencing
Perimeter search for third-party devices
Equipment catalog management
Calculation and internal service charging
Equipment rental
Mobile barcode logistics
Repair management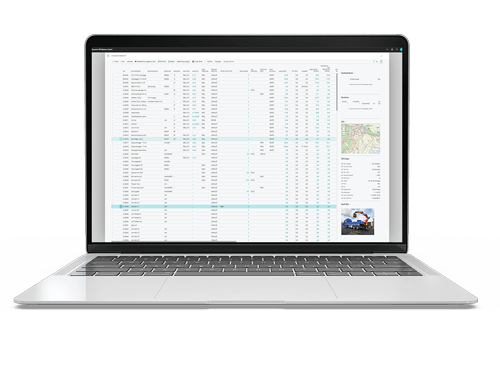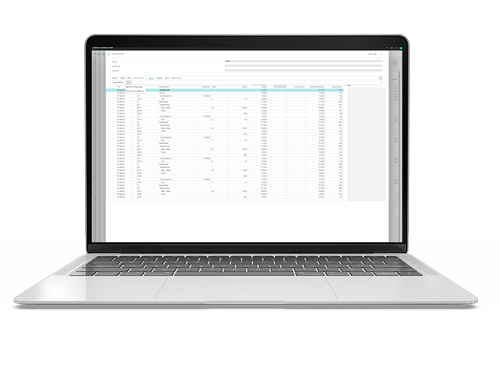 Subcontractor Management
starting from
Calculation
Cost estimation
LV order
Price comparison list
Best bidder determination
Import / Export of inquiries & offers
Import / Export of measurement sheets
Construction accounting with down payment accounting
Accounting with integrated down payment functions
Management of liability reserves / cover reserves
Management of bank guarantees / bank sureties
Integrated measurement recording and accounting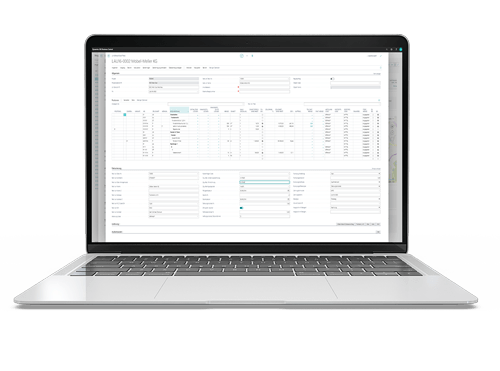 Full integration with
Microsoft Dynamics NAV / 365 Business Central
Microsoft Dynamics NAV / 365 Business Central provides all important business functions as standard: Integrated financial accounting and cost accounting, CRM functionalities, enterprise resource planning and supply chain management, production and service provide a proven basis for your business processes.
User-friendly integration into your existing Microsoft working environment
Easy customization of masks, tables and views on user level
Integrated workflows for easy and independent implementation of your processes
Merchandise Management
Extensive functionalities for efficient procurement, management and delivery of your material.
Merchandise management with catalog item management
Standard calculations/ formulas
EDI interfaces
Management of different storage locations
Delivery to warehouse and construction site
Barcode logistics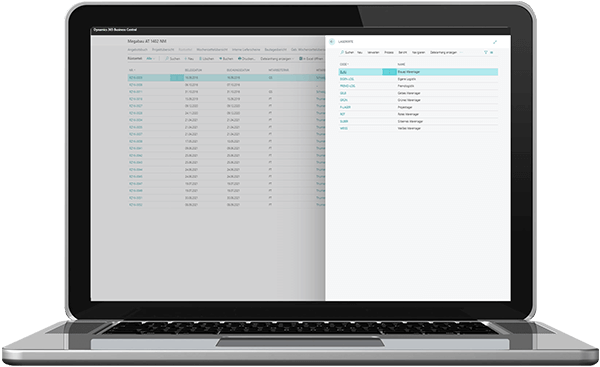 Industry modules tailored to your needs
for the entire construction industry with MEGABAU
Based on Microsoft Dynamics NAV / 365 Business Central, MEGABAU offers numerous certified add-on modules for your construction and construction-related trades. No matter what trade, no matter what requirement, MEGABAU offers you the functionalities you need as standard.
Low costs for customization and maintenance
Access to proven industry standards for your entire organization
Integration and consolidation of all business areas in one system
Choose your industry
Find the specific scope of
MEGABAU's services for your industry.
Integrated windream Document Management (DMS) / Enterprise Content Management (ECM)
with fully automated document storage
An integration of the windream DMS/ECM Suite, which has been developed together with our solution partner windream, allows you to store your complete project documentation in your MEGABAU project fully automatically and with keywords.
Integral components are also a digital invoice workflow , auto-archiving of photos from the construction documentation and e-mail archiving.
All documents of your construction project in one place, digital and accessible from everywhere
Efficient and partially automated invoice receipt workflow
Court-proof documentation
Integration of
Microsoft 365 Apps including Office integration

Microsoft Dynamics NAV / 365 Business Central offers a wide range of options for integrating other Microsoft Dynamics 365 applications with your solution.
Whether Outlook, Teams or Excel - the solution offers extensive possibilities to integrate the application into your existing working environment.
Linking of ERP content with teams and direct editing
Outlook synchronization and various possible entry points to other applications.
Export, edit and re-import tables at the touch of a button.
Business intelligence functionalities for visual preparation
of your company data
Get more out of your ERP and create dashboards, reports and analytics to base your decisions on.
With intelligent BI solutions from TARGIT, we help you improve productivity, profitability and competitiveness.
Easy configuration and operation
Analyses and graphics in real time
Dynamic period evaluations without additional effort
Individualized report shipping
Variable cloud services and licensing models
for every IT strategy
Whether "on premise" or in the cloud. Whether purchase licenses, rent or SaaS (Software as a Service). We have the right solution for every IT strategy. Together with you, we analyze your requirements and recommend the right license and operator model.
No own IT infrastructure necessary
Flexible operator models for every requirement
Attractive license models for foremen and site managers
IT security concepts for the
optimal protection of your data
A change in IT strategy and operator model also means a reassessment of IT security and data protection. We accompany you in your digital transformation and help you implement the right concepts for your IT security.
Flexible security concepts that depend on the operator model
Modern and future-proof technologies
GDPR-compliant data protection
We'd like to hear from you
Thank you for your interest. We will contact you as soon as possible.